Airbag Packaging/Air column bag sample customization process
What's the way to make samples for your products ?
Step 1. If you have used it and have sample ,please let us know the details of the bag size( A,B,C,D,E,F) as shown in the picture below. It would be better if airbag images , product packing images and dimensions are provided.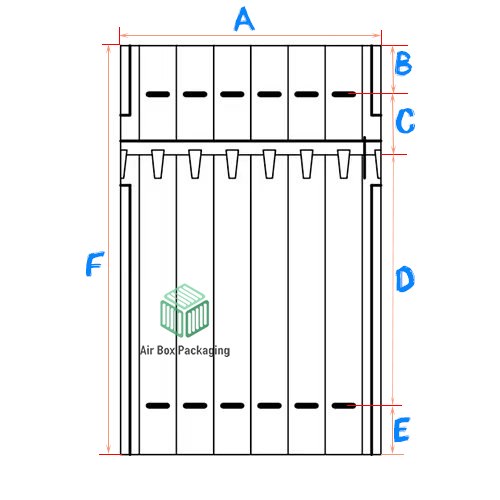 Step 2. If you have not used Airbag packaging before, please tell us the size, shape and weight of your product . It is better to provide product image for reference .
Step 3. Sample design and production
After checking your product details, we will design a suitable sample air column bag 1~3 pieces for you to test for free.
Step 4. Approval or modify .The sample is approved directly, or needs to modify until it passes your test .
By using air column protective bags, you can be sure that your product samples are protected during transportation and storage. The air column bags are made with a combination of LLDPE and Nylon and are designed to provide high-performance protection and shock absorption, while also being lightweight and compact. With the help of our team, you can create custom air column bags to fit your product samples perfectly